Here's the "Comics is Comics" editorial from AN ACT OF FAITH #9. It chronicles the "Creator-owned Comics (vs. Corporate-owned Comics)" panel held at the Special Edition: NYC comics convention. The panel featured a discussion between Al Nickerson, Michael Allred, and Kurt Busiek. Following that is a correspondence between Dave Sim and Al Nickerson concerning current talks on comic book Creator's Rights÷






October 4, 2014

Hi Dave,

Thanks for your September 4th letter. I hear what youíre saying. I also get frustrated with the lack of robust talks concerning comic book Creatorís Rights. But, just because itís difficult doesnít mean that Iím going to stop. When I started talking publicly about Creatorís Rights in 2005, Scott McCloud told me:

Be prepared to be disappointed.

Scott wasnít wrong.

Still, there was something that you had once mentioned that continues to encourage me:

Thereís nothing magical about the guys who chose to discuss (creatorís rights) back in 1988, it was more a matter of 'SOMEONE has to start discussing this stuff' just as Neal Adams seemed to have the same sense back in the 70s. At a certain point if youíre the only one talking about it everyone just screens you out, which is why itís important that new voices chime in wherever they see a need. And which is why Iíve spent this much time on it with you, Al. Youíre the only person in seventeen years to express an interest. Itís probably your turn now. Donít be surprised if it loses you every friend you have. It still needs to be done.

The discussions that you and folks like Steve Bissette and Scott McCloud have had in the 1980s had made a huge impact on me as a young artist. Because of such conversations and because of the Creatorís Bill of Rights, I became very much aware of comic book history and the horrible business practices of comic book publishers. People were certainly listening to you guys.

Iím praying that, today, young artists coming into the field are listening, as well. I actually see them listening when I teach and lecture about Creatorís Rights. And (for example) Iíve seen them listening during the "Creator-owned Comics (vs. Corporate-owned Comics)" panel. (I mean Michael, Kurt, and I even talked about comic book contracts during the panel. How often does THAT happen?)

Will such talk topple work-made-for-hire companies like the Walt Disney Company/Marvel Entertainment or DC Entertainment? Probably not. But, if we can make young artists aware, if we can instill change in the work-made-for-hire cesspool of comics, if we can make sure that past travesties arenít repeated, then Iíll keep on fighting.

I may be done with work-made-for-hire, but Iím not done with comics, and Iím not done with speaking out.

Thereís always hope.

Holy is Yeshua!

best,
Al Nickerson
http://anactoffaithcomic.com/
http://www.facebook.com/al.nickerson.3

John 11:25-26 (King James Version): 25 Jesus said unto her, I am the resurrection, and the life: he that believeth in me, though he were dead, yet shall he live: 26 and whosoever liveth and believeth in me shall never die. Believest thou this?

PS: With that said, youíre certainly not wrong about Marxist-feminism.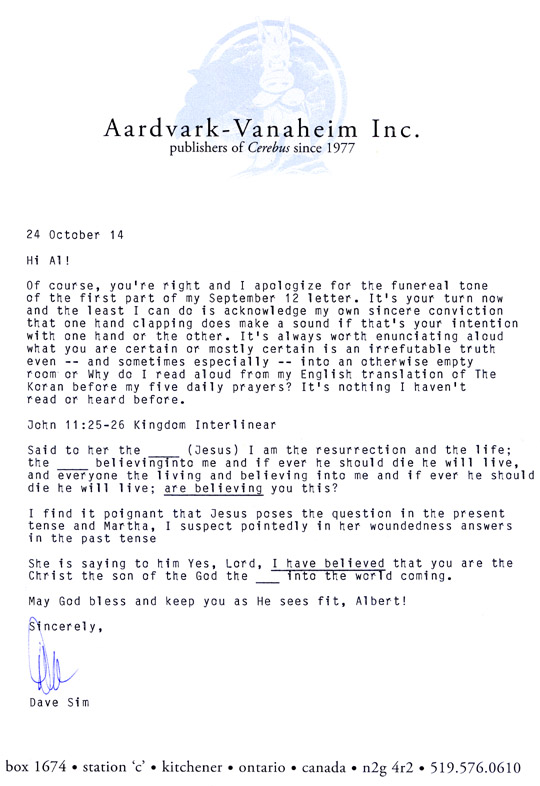 Hi Dave,

Thanks for your October 24th letter. Itís always great to hear from you. No need to apologize, though. I understand what youíre saying. And I understand your frustration. It can be annoying to (seemingly) yell into the wind (so to speak) in regards to attempting to discuss comic book Creatorís Rights. You and folks like Stephen Bissette, Scott McCloud, and Colleen Doran have made great strides in Creatorís Rights. We owe you guys more than we can ever repay. Maybe, in several more years, Iíll be where you are in my views about talking about such things. But, Iím not quite there just yet.

In regards to John 11:27, some Bible translations have Martha speaking in the present tense and some in the past tense. Hmm÷ Iím enclosing various translations that Iíve found on Biblehub.com.

best,
Al Nickerson



Next: "Frank Miller got me thinking..."
Stop by the Creator's Rights Forum to discuss this or any other of our creatorís rights topics.
The Creatorís Bill of Rights main webpage